I am
Rajat

Bhageria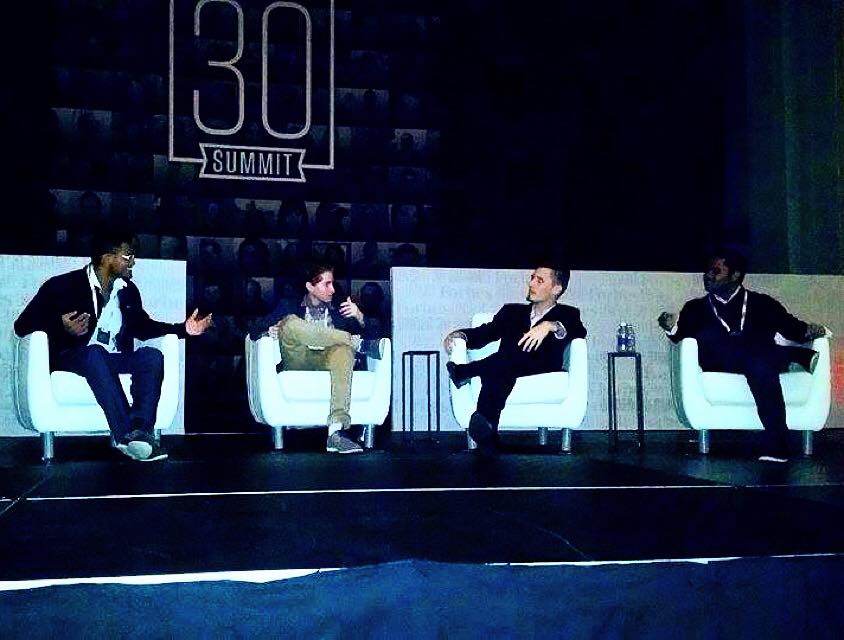 I want to change the lives of at least a billion people by 10x. I love to make impactful products, build sustainable businesses, meet crazy changemakers, write, and travel the world.
I am an entrepreneur, book author, undergraduate student at The Wharton School, and Masters Robotics and AI Engineering student at the University of Pennsylvania GRASP Lab. Having worked on multiple successful entrepreneurial endeavors while in school, I believe that age is never an issue. Forbes recently announced me as a "Young Entrepreneur Who Took [an] Unexpected Path and Succeeded"
My most recent startup was ThirdEye; the company was acquired by TheBlindGuide in Feb. 2017 (See TechCrunch for release). Announced as one of the "15 most innovative startups" and "one of the 15 brightest college entrepreneurs" in Forbes, as "Philadelphia's Top College Startup" in Philly.com, and as one of the "6 companies to watch in 2016" by Tech.co and HuffPost, ThirdEye is a product that empowers visually impaired persons through object recognition via auditory feedback. ThirdEye can recognize almost all objects including money, landmarks, medicines, household objects, and regular text. All visually impaired persons have to do is point a phone at whatever they want to recognize and within a few seconds they'll know what they're looking at. I led the  ThirdEye team to bring the product to market via partnerships with Google, the National Federation of the Blind, the Wharton Venture Initiation Program, Blackstone Launchpad, Penn Medicine, Penn Law Legal Clinic, and various ophthalmology clinics.
In addition to running my companies, I love to spend time encouraging other students to take advantage of entrepreneurship during school. Working on a company has taught me more than school ever could, and now I am writing a Forbes column and HuffPost column about how students can take advantage of the fruits of entrepreneurial endeavors all while staying in school. I also believe that all schools should encourage entrepreneurship and I highlight my views on how we can fix our currently broken education system in my book What High School Didn't Teach Me: A Recent Graduate's Perspective on How High Schools are Killing Creativity (I wrote this right after high school)
The insane amount I learned by building up my companies during school inspired me to help start Prototype Capital, a Student Run VC Fund investing in Student Run Companies. We believe in paying people to stay in school and work on their companies. If you're looking for funding, let me know 🙂
In the past, I have worked on building and commercializing platform for writers to publish their creative writing with the world, a watch strap that makes any normal watch "smart," and a modular sofa that integrates with your entertainment center. Before that, in high school, I did independent peer-reviewed science research at the University of Cincinnati and worked on a variety of different science fair projects. I also love hackathons and have worked on many. Ultimately, I've become good at building products and launching them with very few resources.
Over the last few years, I have been lucky enough to be featured in Forbes, TechCrunch, BBC, Philly.com, HuffingtonPost,  Business Insider, USAToday, Tech.co, and Mother Nature Network.
I was born in India, have lived in over 4 countries, speak 4 languages, and have visited over 18 countries. I love The Future, Entrepreneurship, Building Sustainable Businesses, Hustling, Product Management, Meeting Amazing People, Consumer Tech, AI, ML, Nanotechnology, Robotics, Drones/UAVs, IoT, Shared Economy, Cloud, Education Reform, Venture Capital, Magic, Writing, Reading, Philosophy, Art and Art History, Learning about the World/Cultures, Traveling the World, Digital Nomadism, Living as a Vagabond
I'd love to meet you! Hit me up at

[email protected]

.
---
If you're interested in seeing all of my projects, check out My Projects Page
Looking for more specific information? Visit my LinkedIn
Interested in entrepreneurship and education? Read the articles I've written
Want to help me revolutionize education? Read my education reform book here
See the media articles I've been featured in
Want to keep up with me? Follow Me on Twitter
Inspired? Hire me as a speaker!
Is your company looking for funding? Check out Prototype Capital!